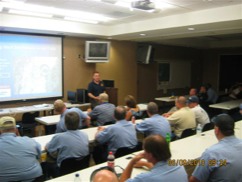 Compliance Training Associates, Inc., established in 1992, is certified as a HUB firm with the Statewide Uniform Certification Program (SWUC). Our company structure includes the owner of the business,
Debbie Rogers-Lowery
, and a team of certified and specialized instructors/inspectors. Debbie's experience includes affiliation with the local chapter of the National Safety Council, member of The National Safety Council, member of NFPA, member of the NC Sheriff's Association, participation in numerous seminars and safety schools, and authorization as an OSHA 501 instructor. Her experience also includes accompanying OSHA compliance officers on over 30 compliance visits including five fatality investigations. The instructors/inspectors have backgrounds in firefighting, industrial hygiene, law enforcement, building code and fire code enforcement, emergency medical technician training, health physics, emergency planning and heavy equipment operation.

The education level of the instructors/inspectors ranges from degrees in fire science, industrial hygiene and law enforcement. Certifications include Trench Rescue Specialist, Confined Space Rescue Specialist, Hazardous Materials Emergency Response Technician, Emergency Medical Technician, National Safety Council Defensive Driving Instructor, American Heart Association Instructor, OSHA 501 instructor, NC Level III Fire Instructor, NC Fire and Rescue Instructor, and National Safety Council Flagger Training Program Instructor.